Arrange the products in a grid format! This Woo Product Grid will enhance the product arrangement for users and viewers!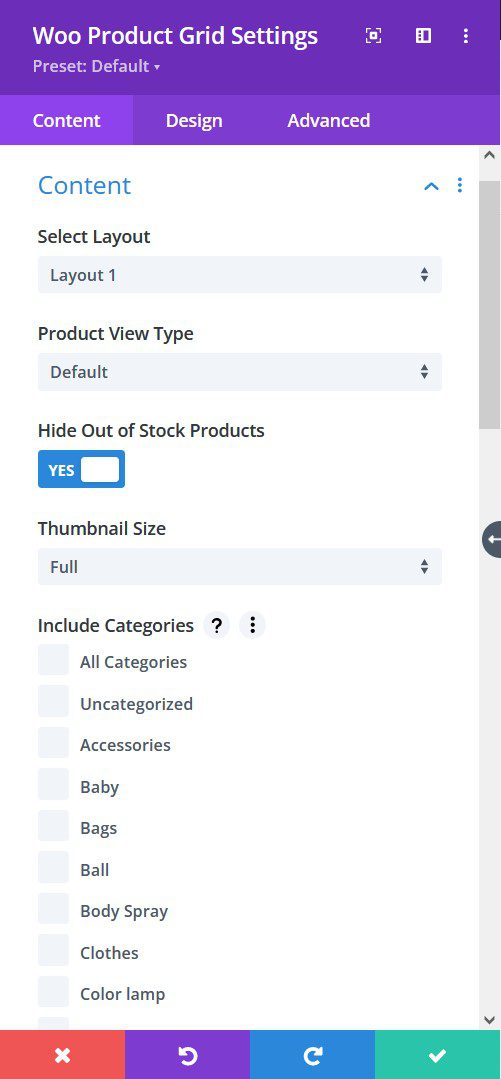 Content tab → Content
Select Layout – pick from the six trendy layouts

Product View Type: Select a product view type from default, latest products, best selling, and all the way to product category. These will help you define how you want the products viewed.

Hide Out Of Stock Products – hide or let view the out of stock products

Thumbnail Size – pick a size for the image thumbnail

Include Categories – select the categories you want to show or select all categories to show all the products added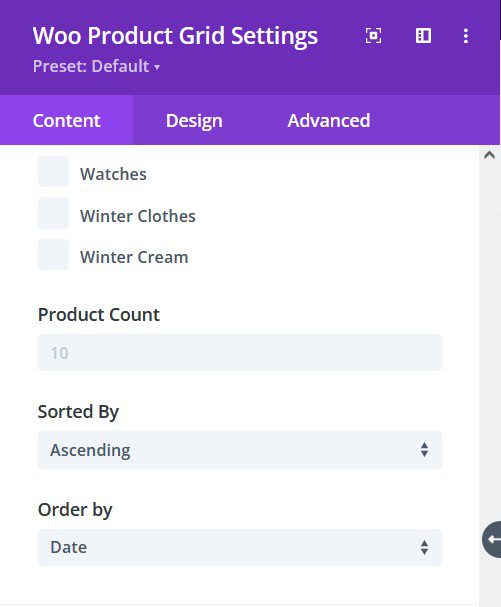 Content tab → Content
Product Count – number of products to be viewed

Sorted By – sort the products by either ascending or descending order

Order By – There are at least 7 ways to order the products, select the one you prefer.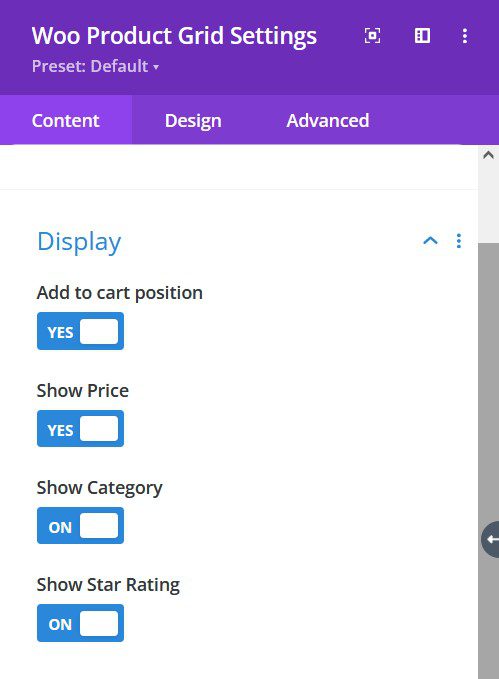 Content tab → Display
Add To Cart Position – enable to show add to cart

Show Price – enable to show the price of a product

Show Category – enable to show the category

Show Star Rating – enable to show the star rating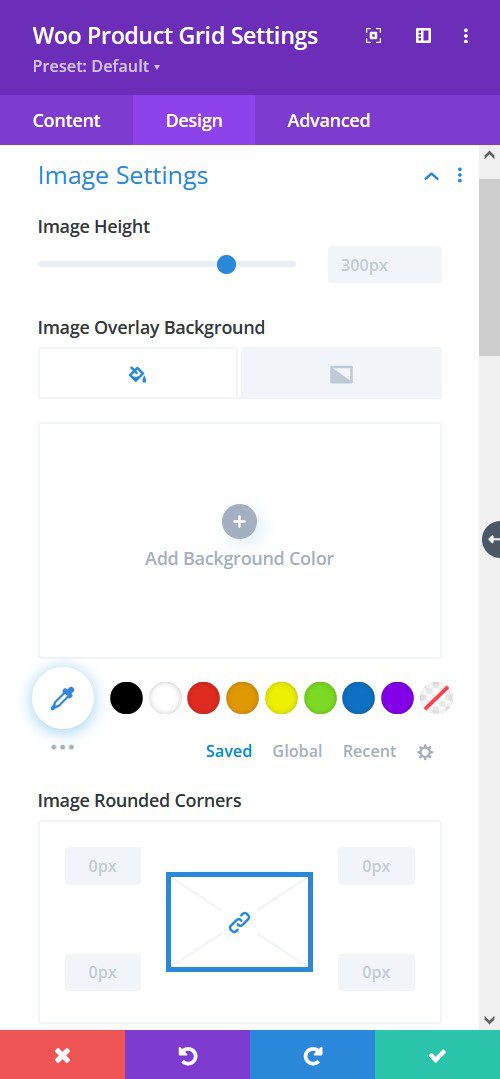 Design tab →  Image Settings
Image Height – adjust the height of the images

Image Overlay Background – Add an overlay background fill color or gradient on top of the image

Image Rounded Corners – include rounded corner by adjusting the four corners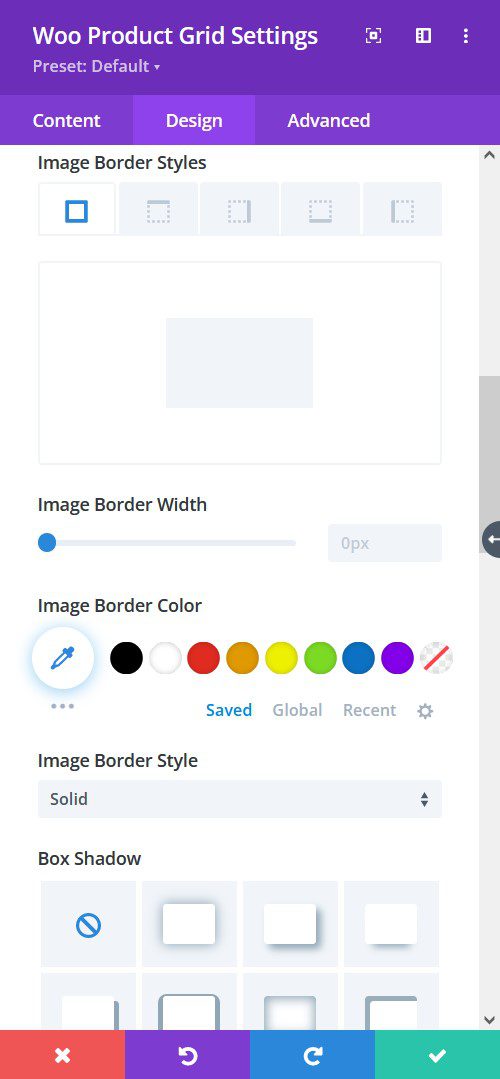 Design tab →  Image Settings
Image Border Styles – add a border to any side you like or have borders on all four sides

Image Border Width – adjust the width of the border

Image Border Color – select a color for the border

Image Border Style – include a style to the border

Box-shadow – add a box-shadow to the element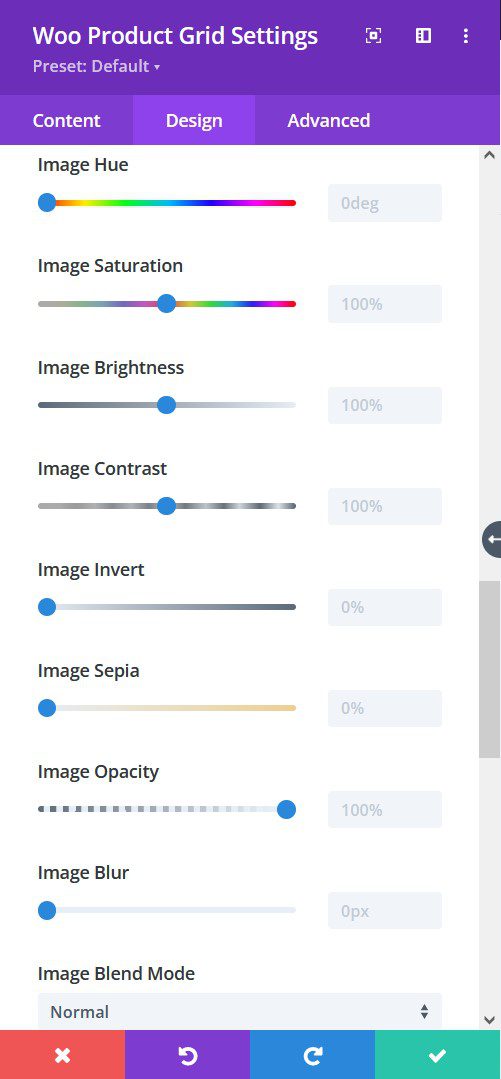 Design tab → Image Settings
Image Hue – adjust image hue using the slider

Image Saturation – adjust the intensity of the image 

Image Brightness – configure the brightness of the image

Image Contrast – include contrast to the image

Image Invert – use this to shift to an inverted image

Image Sepia – adjust to apply sepia color tone to the image

Image Opacity – adjust the opacity of the image

Image Blur – add blur to the image

Image Blend Mode – Select from the 16 types of image blend mode for a quick configuration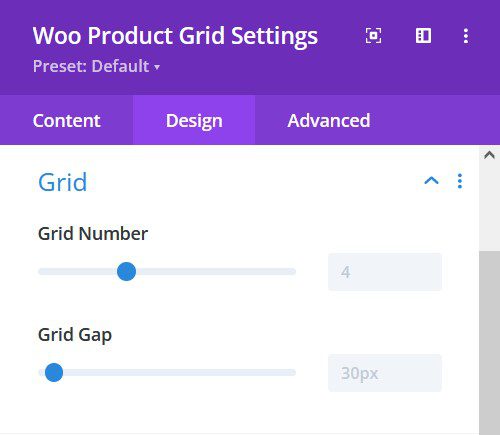 Design tab → Grid
Grid Number – adjust the slider to measure the grid number

Grid Gap – adjust the gap between the elements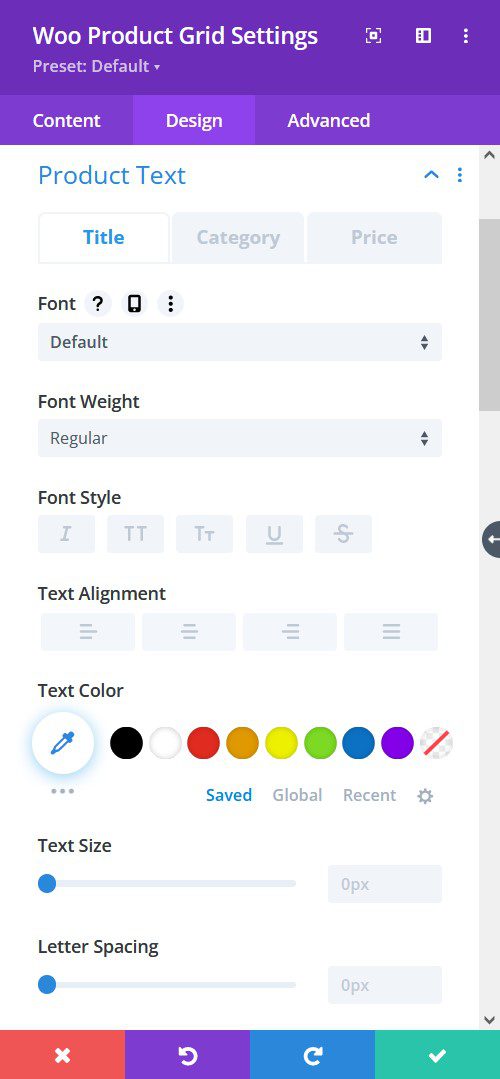 Design tab → Product Text

Font – Choose a font. All Google web fonts are available here. You can upload a custom font as well. 

Font Weight – select the weight of the font from Light to Ultra Bold

Font Style – select a font style from 

Text Alignment – align the text to left, right, or center

Text Color – pick a color for the text

Text Size – resize the text

Letter Spacing – Adjust the spacing between the letters of the text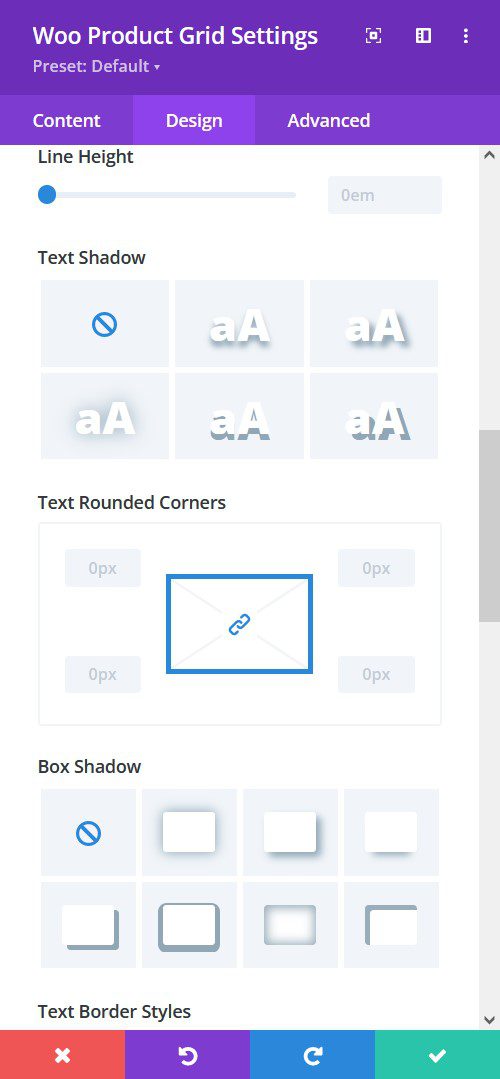 Design tab → Product Text

Line Height – adjust the space between multiple lines added to the design 

Text Shadow – add a shadow to the text

Content Wrapper Rounded Corners – include rounded corner by adjusting the four corners

Box-shadow – add a box-shadow to the element

Border Styles – add a border to any side you like or have borders on all four sides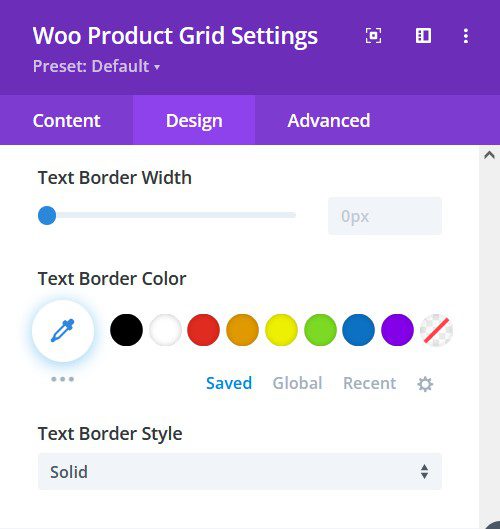 Design tab → Product Text
Border Width – adjust the width of the border

Text Border Color – select a color for the border

Text Border Style – include a style to the border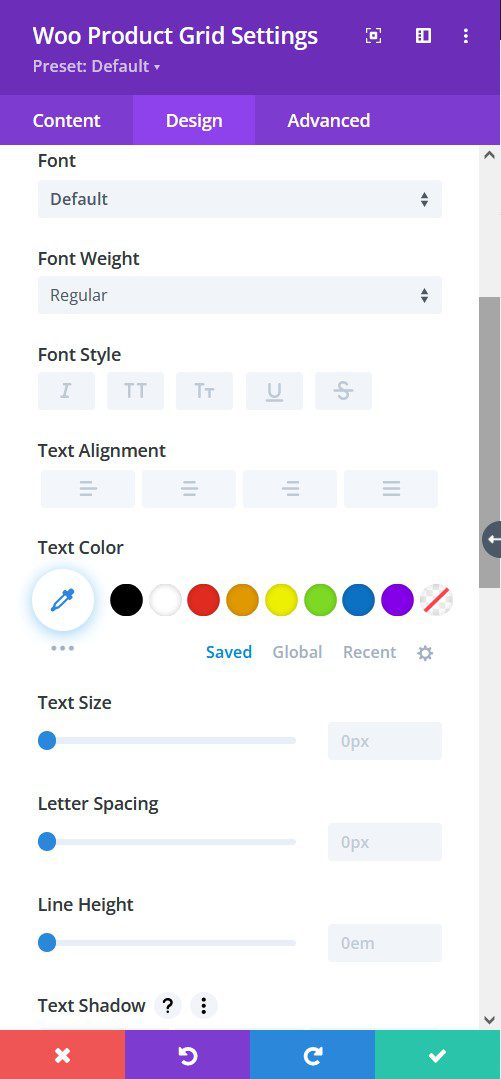 Design tab → Product Text (Category/Price)
Font – Choose a font. All Google web fonts are available here. You can upload a custom font as well. 

Font Weight – select the weight of the font from Light to Ultra Bold

Font Style – select a font style from the following

Text Alignment – align the text to left, right, or center

Text Color – pick a color for the text

Text Size – resize the text

Letter Spacing – Adjust the spacing between the letters of the text

Line Height – adjust the space between multiple lines added to the design 

Text Shadow – add a shadow to the text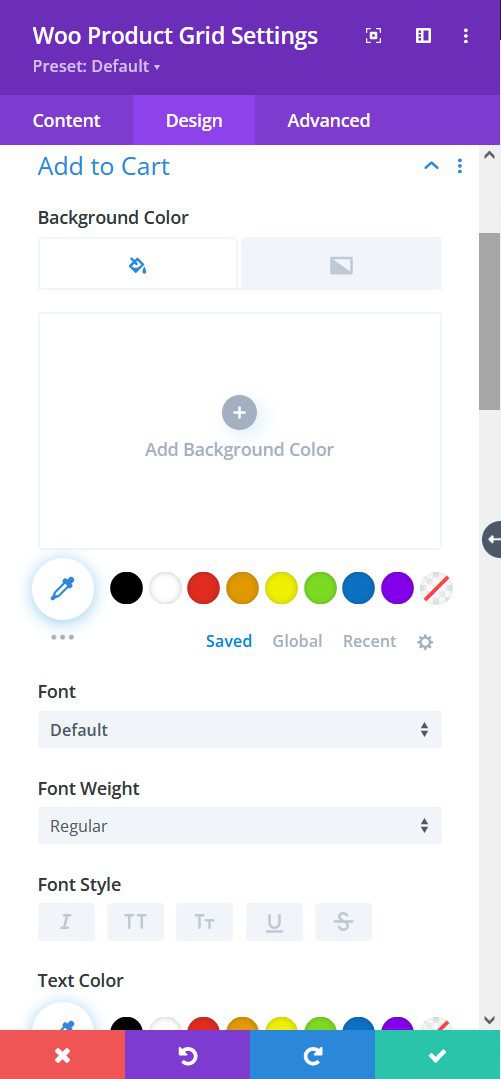 Design tab → Add To Cart
Background Color – Add a background fill color or gradient for the description text

Font – Choose a font. All Google web fonts are available here. You can upload a custom font as well. 

Font Weight – select the weight of the font from Light to Ultra Bold

Font Style – select a font style from 

Text Alignment – align the text to left, right, or center

Text Color – pick a color for the text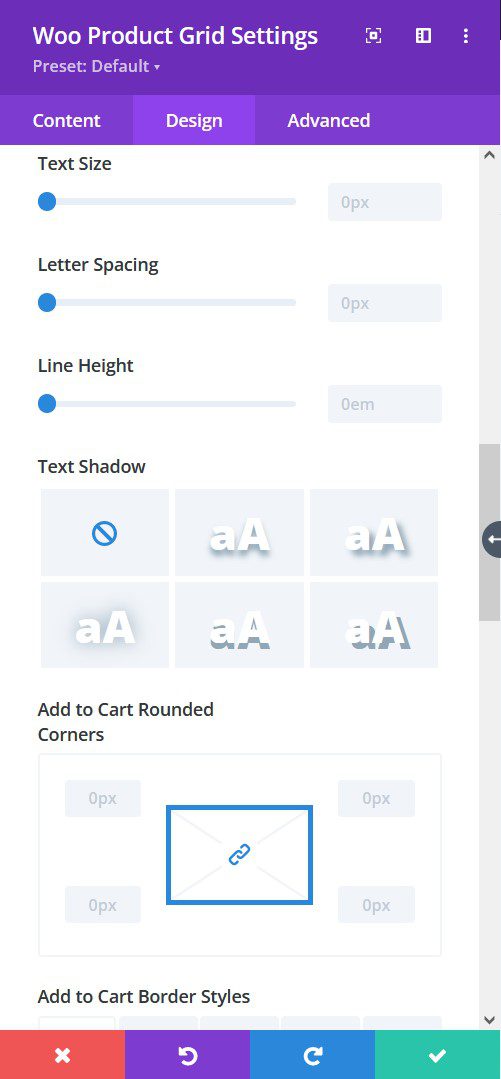 Design tab → Add To Cart
Background Color – Add a background fill color or gradient for the description text

Font – Choose a font. All Google web fonts are available here. You can upload a custom font as well. 

Font Weight – select the weight of the font from Light to Ultra Bold

Font Style – select a font style from 

Text Alignment – align the text to left, right, or center

Text Color – pick a color for the text

Text Size – resize the text

Letter Spacing – Adjust the spacing between the letters of the text

Line Height – adjust the space between multiple lines added to the design 

Text Shadow – add a shadow to the text

Text Rounded Corners – include rounded corner by adjusting the four corners

Border Styles – add a border to any side you like or have borders on all four sides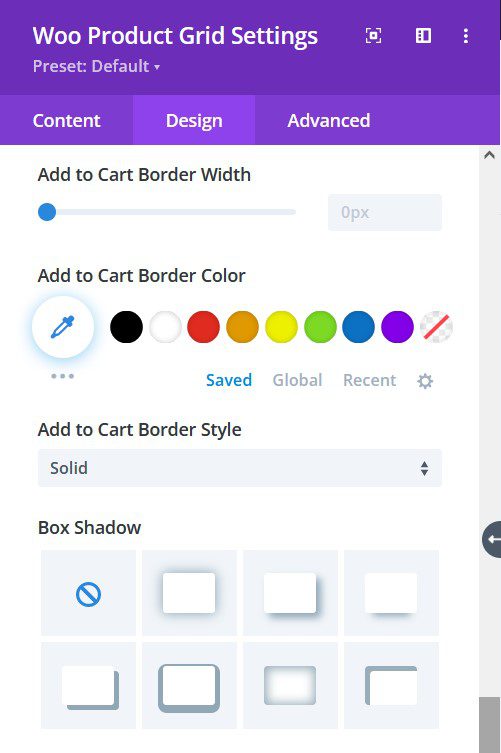 Design tab → Add To Cart
Border Width – adjust the width of the border

Border Color – select a color for the border

Border Style – include a style to the border

Box-shadow – add a box-shadow to the element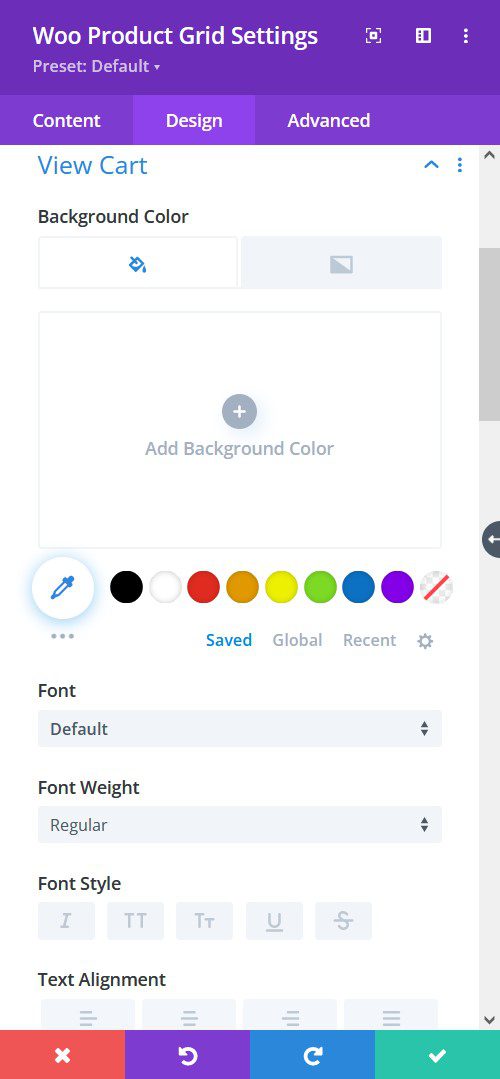 Design tab → View Cart

Background Color – Add a background fill color or gradient for the description text

Font – Choose a font. All Google web fonts are available here. You can upload a custom font as well. 

Font Weight – select the weight of the font from Light to Ultra Bold

Font Style – select a font style from 

Text Alignment – align the text to left, right, or center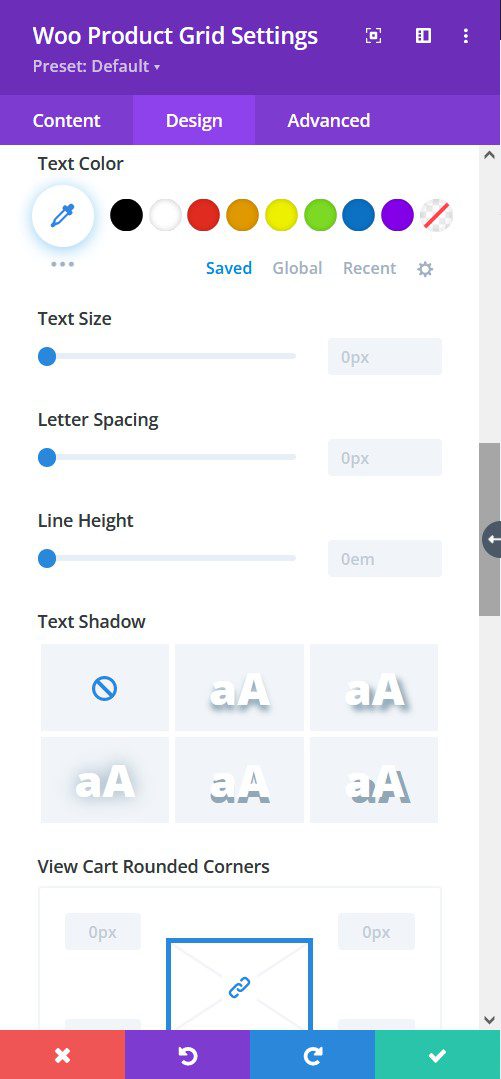 Design tab → View Cart
Text Color – pick a color for the text

Text Size – resize the text

Letter Spacing – Adjust the spacing between the letters of the text

Line Height – adjust the space between multiple lines added to the design 

Text Shadow – add a shadow to the text

Rounded Corners – include rounded corner by adjusting the four corners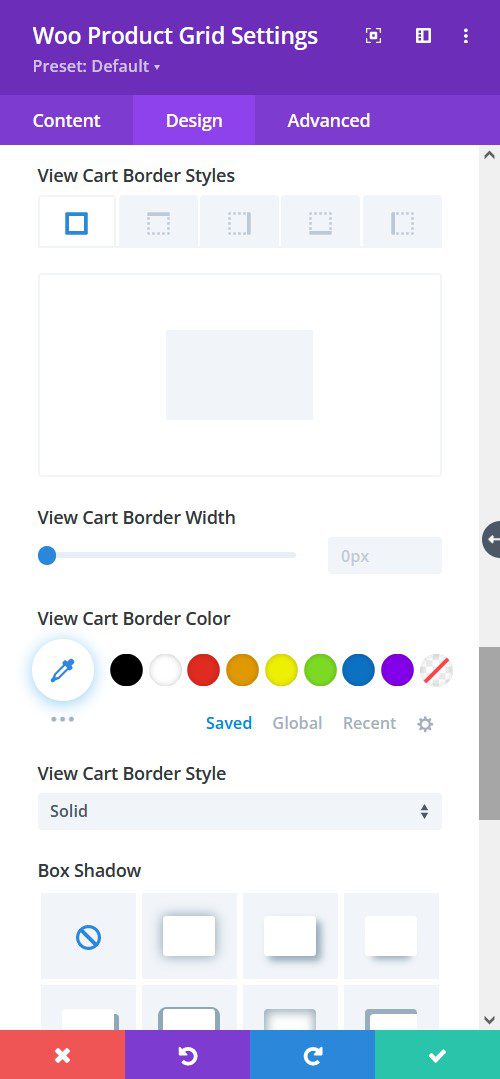 Design tab → View Cart
Border Styles – add a border to any side you like or have borders on all four sides

Border Width – adjust the width of the border

Border Color – select a color for the border

Border Style – include a style to the border

Box-shadow – add a box-shadow to the element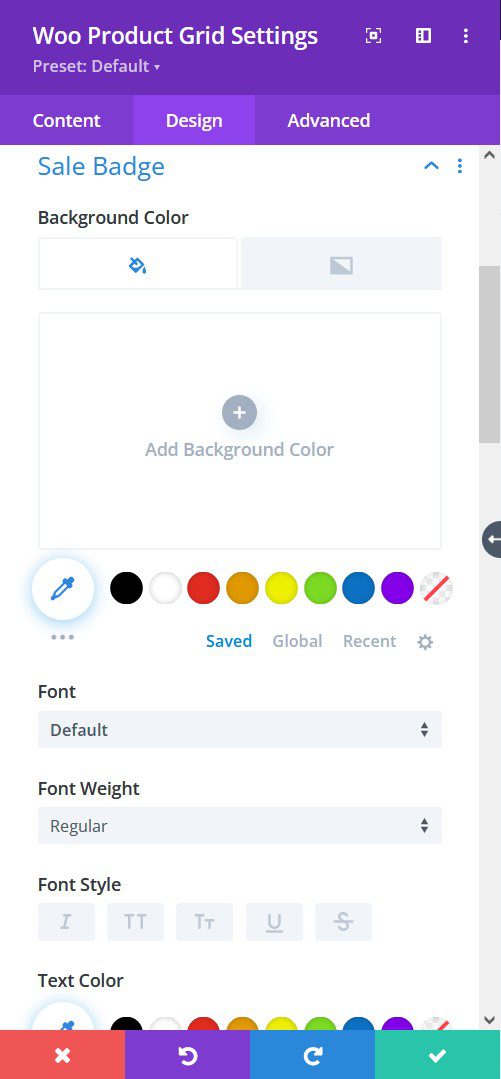 Design tab → Sales Badge

Background Color – Add a background fill color or gradient for the description text

Font – Choose a font. All Google web fonts are available here. You can upload a custom font as well. 

Font Weight – select the weight of the font from Light to Ultra Bold

Font Style – select a font style from 

Text Alignment – align the text to left, right, or center

Text Color – pick a color for the text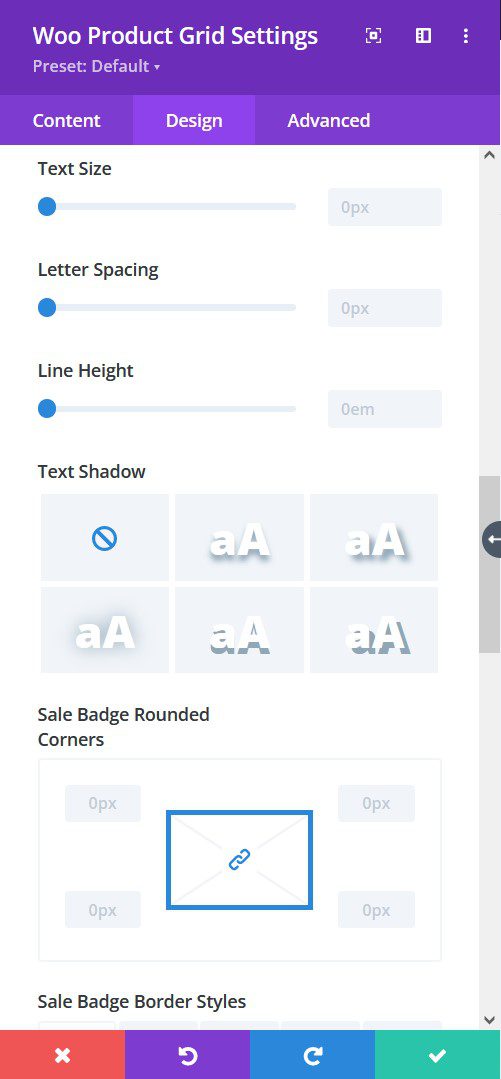 Design tab → Sales Badge
Text Size – resize the text

Letter Spacing – Adjust the spacing between the letters of the text

Line Height – adjust the space between multiple lines added to the design 

Text Shadow – add a shadow to the text

Rounded Corners – include rounded corner by adjusting the four corners

Border Styles – add a border to any side you like or have borders on all four sides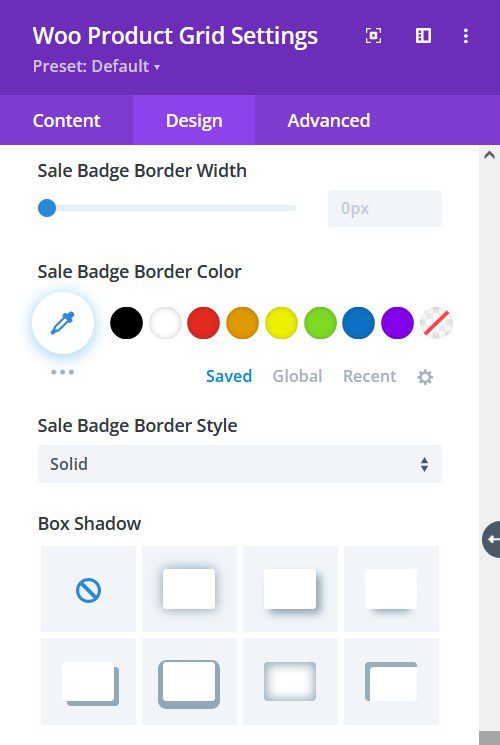 Design tab → Sales Badge

Border Width – adjust the width of the border

Border Color – select a color for the border

Border Style – include a style to the border

Box-shadow – add a box-shadow to the element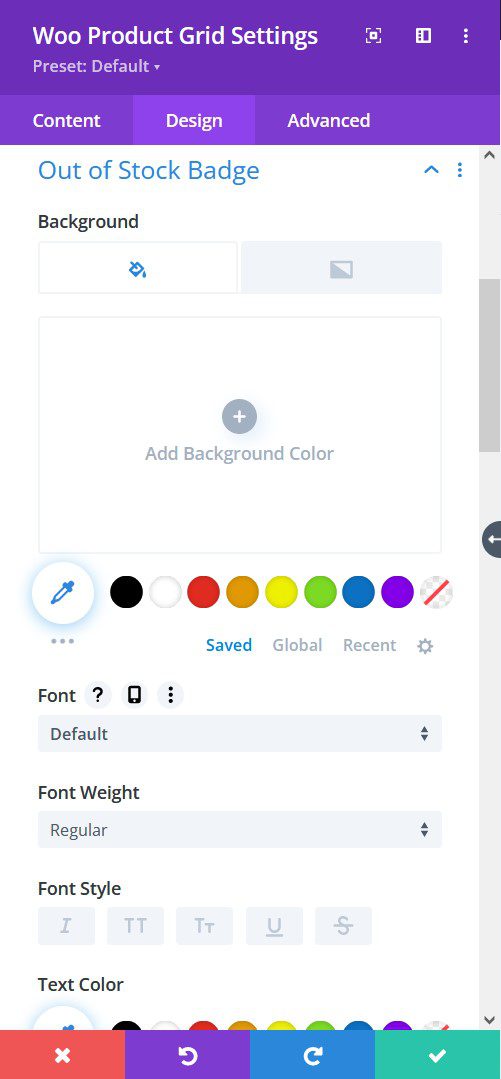 Design tab → Out of Stock Badge

Background Color – Add a background fill color or gradient for the description text

Font – Choose a font. All Google web fonts are available here. You can upload a custom font as well. 

Font Weight – select the weight of the font from Light to Ultra Bold

Font Style – select a font style from 

Text Alignment – align the text to left, right, or center

Text Color – pick a color for the text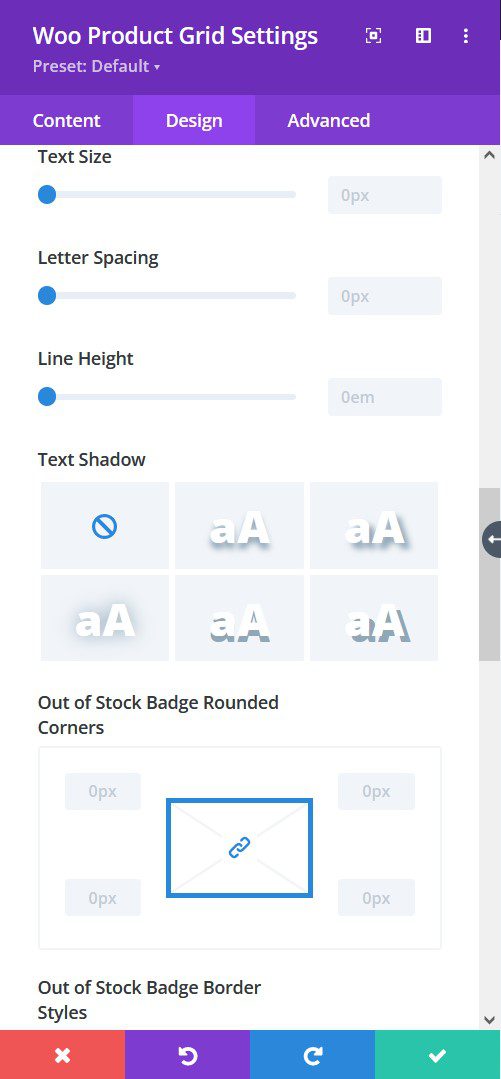 Design tab → Out of Stock Badge
Text Size – resize the text

Letter Spacing – Adjust the spacing between the letters of the text

Line Height – adjust the space between multiple lines added to the design 

Text Shadow – add a shadow to the text

Rounded Corners – include rounded corner by adjusting the four corners

Border Styles – add a border to any side you like or have borders on all four sides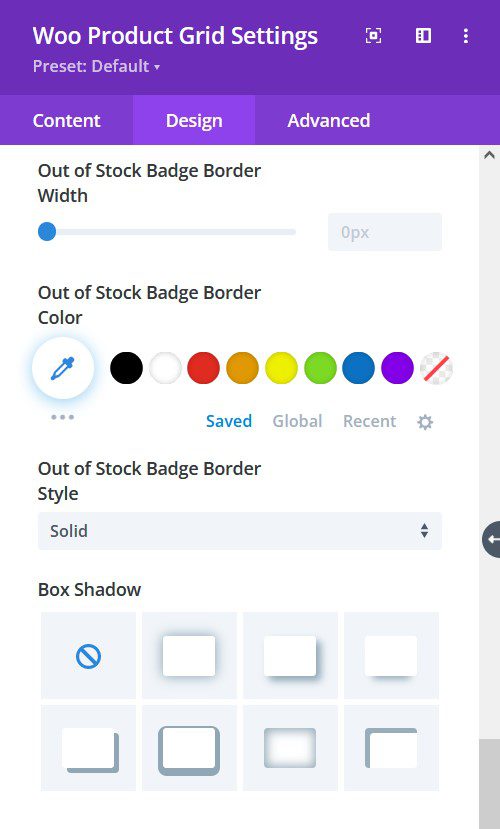 Design tab → Out of Stock Badge
Border Width – adjust the width of the border

Border Color – select a color for the border

Border Style – include a style to the border

Box-shadow – add a box-shadow to the element