A One-Stop Solution To Create

Appealing Woocommerce
The best all-in-one approach to WooCommerce website design for all Divi users! With Woo Essential, you can design a stunning WooCommerce website that is both stylish and professional!
Best on the market
I love this product because the support is doing great for me. Please ... Any Keris
Fully Customizable, Interactive
& Complete Design Tools
We've got some cool features for you right here!
All of Woo Essential's features provide you with flexible design tools and incredible editing functions
10+ Woo Modules
We have 10+ cut-throat eCommerce website designing modules. Easily design every aspect of a WooCommerce website.
Fully Responsive
The modules are made to be responsive on all devices for the convenience of the developers and users.
80+ Layouts
Get 80+ creative layouts to help you get started. Each layout comes with its own trendy outlook.
Woo Essential
Plugin and Features
An elegant carousel slider with six impressive layouts!
Within the Woo Product Carousel, some impressive features allow you to control everything. Create categorized product slides easily using the Woo Product Carousel!
Present products in a unique way with the Woo Product Accordion!
There are options to include products with their own categories and count. Display the products on hover or on click, accompanied by a lovely animation.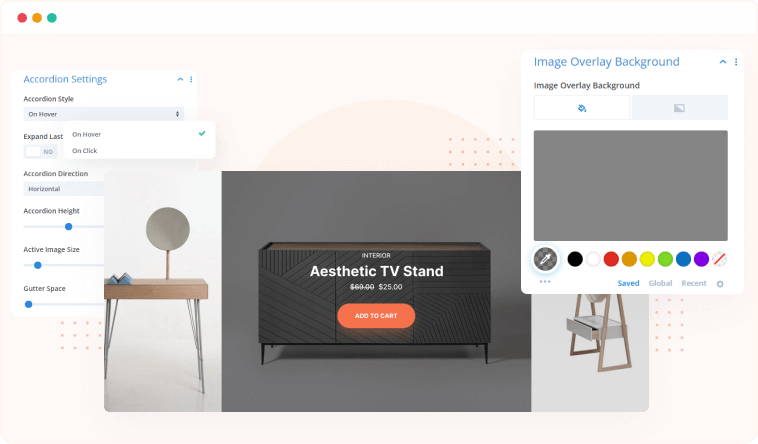 Arrange the products in a grid format! This Woo Product Grid will enhance the product arrangement for users and viewers!
Woo Product Filter Masonry
Customize your products with categorized filters! Multiple filters can help you attract more customers. Each product can be beautifully displayed along with its category and number of items!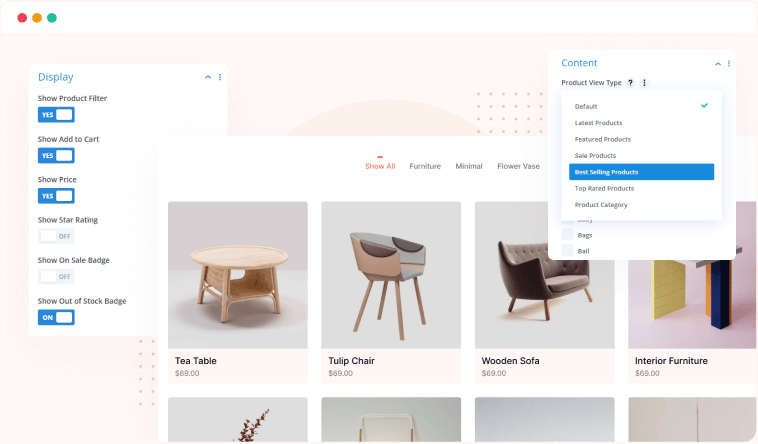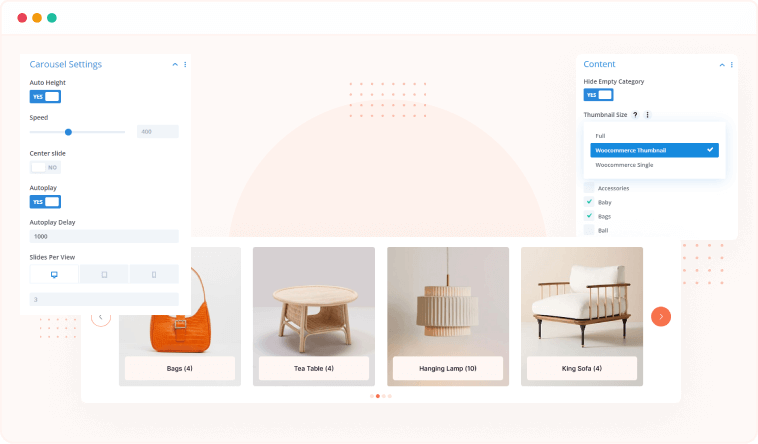 An elegant category carousel slider for your woo-commerce website. With the Woo Category Carousel, highlight the categories for the products and include product count!
Woo Product Category Masonry
Utilize Woo Category Masonry to categorize and organize the products on your e-commerce website. The results are stunning!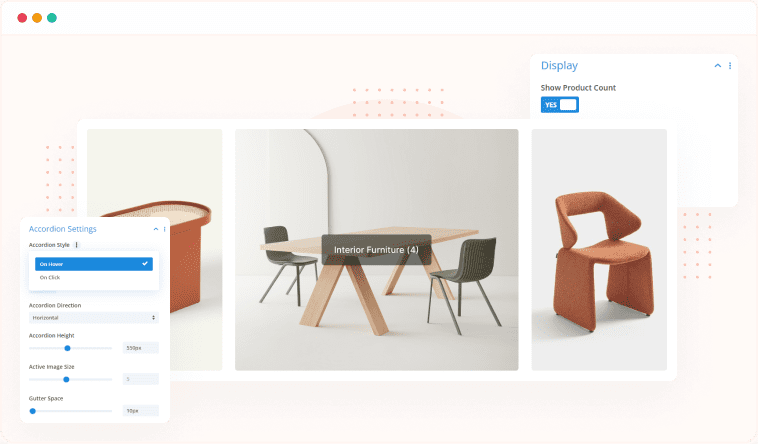 Woo Category Accordion enables you to create a categorized interactive gallery for the products. With a pleasant animation on hover or click, you can show products with their category and count.
Create a grid to organize and categorize your products! The Woo Category Grid will make it easy for viewers to find items easily!
Help your customers find the products they wish to buy with this simple and thoughtfully designed grid format.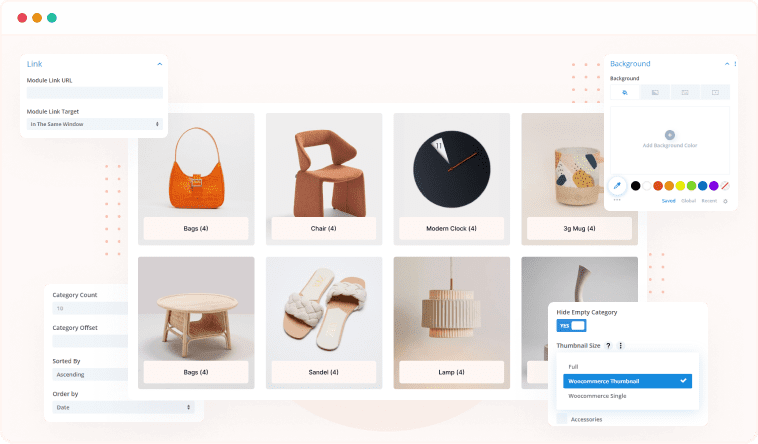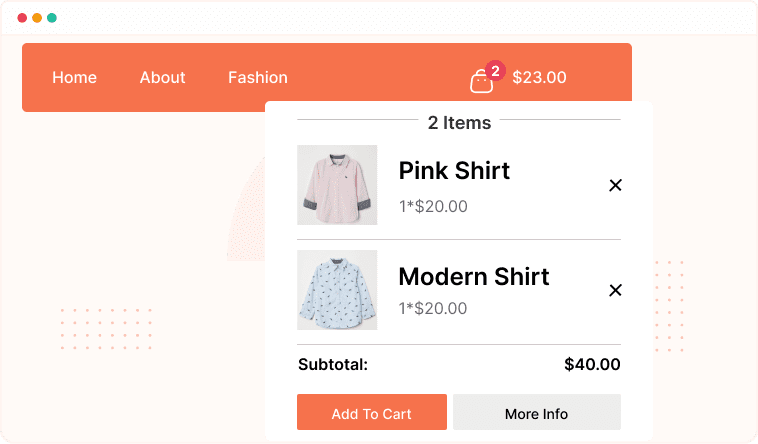 Do you want to improve the customer experience of your eCommerce store? With Woo Essential's Woo Mini Cart feature, you can quickly increase your conversion rate.
The Woo Ajax Search module is a powerful tool for adding an AJAX-powered search form to WooCommerce stores. It can be configured to search for products, categories, and posts and can be customized to meet specific needs. With the module, you can make your store more user-friendly and searchable.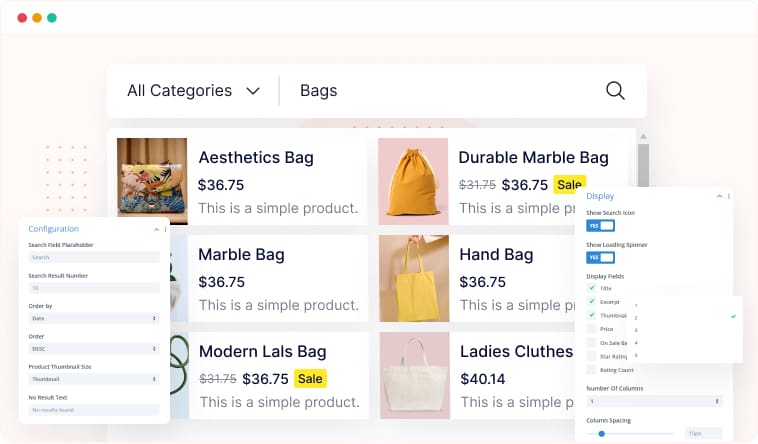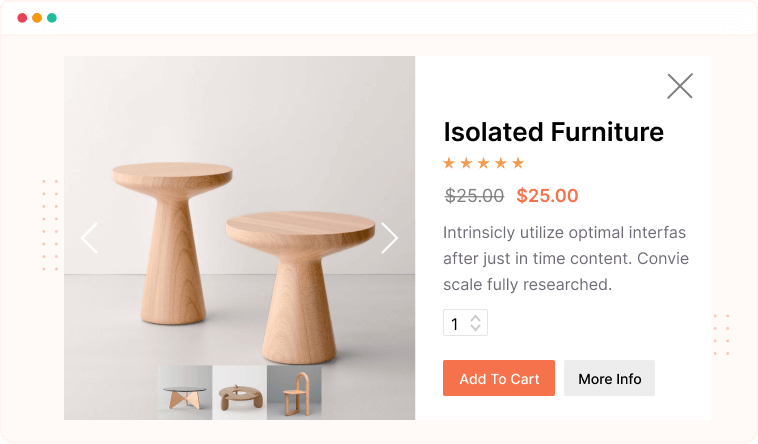 It provides a minimal way to organize your products into a row. The customers can click and see them zoomed-in within a lightbox for quick view.
Looking for a design module to customize your single WooCommerce product? No worries, Woo Essential's Woo Single Product module fulfills your demands.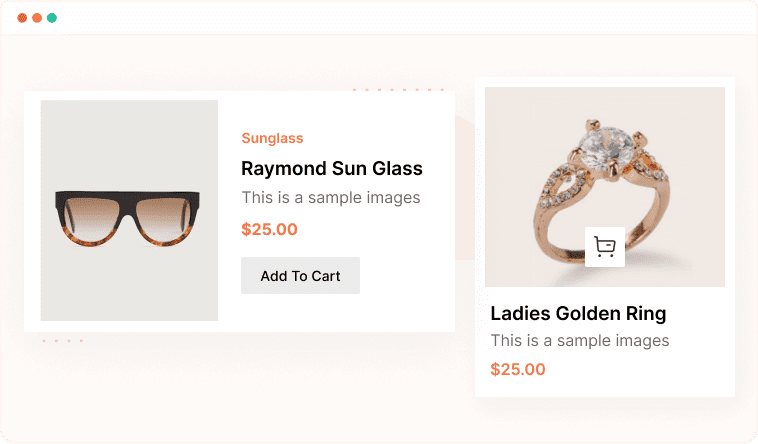 Woo Product Masonry is a minimalistic design tool used for showcasing products in a masonry format for all Divi users! Check out the demo layouts.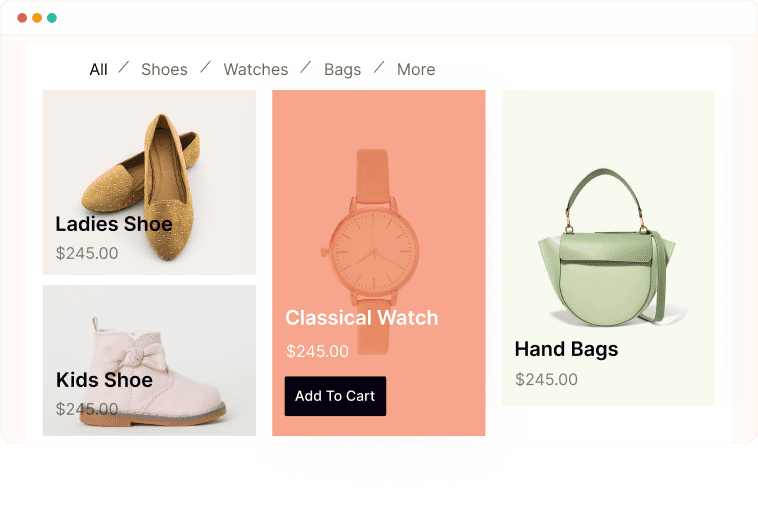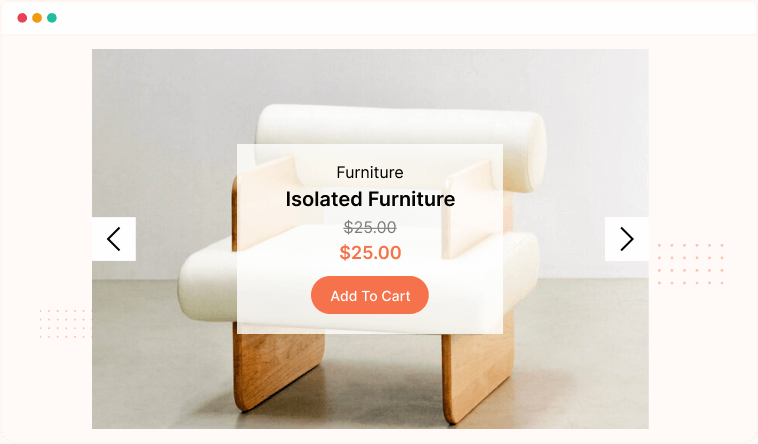 With the Woo Product Slider, you can display your collection of products in a slider on any eCommerce/ WooCommerce website using Divi. You get complete control over all the settings.
Design a flexible, customizable, and stylish product list to highlight the products on any WooCommerce site using Divi.
Speed up your own
ecommerce business today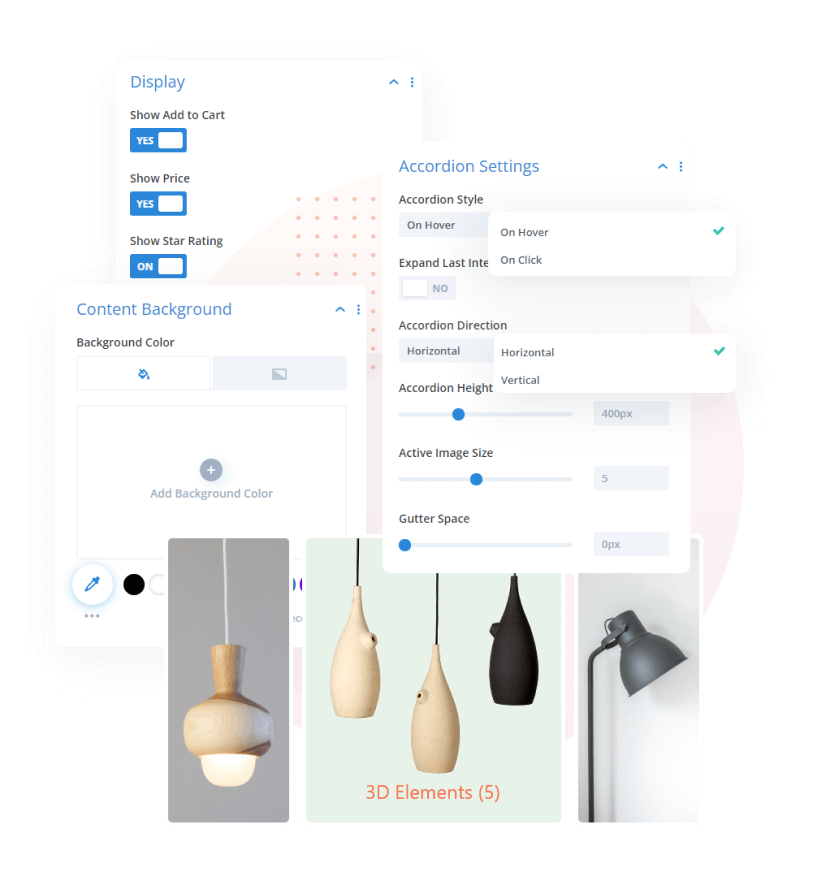 Complete Design Control
Over Everything
With great features come great design possibilities! You get control over all of the elements concerning your design.
Here we have highlighted some versatile settings available within Woo Product Accordion. You can select between the two accordion styles, pick the accordion direction to adjust the images vertically or horizontally, adjust the height, image size, and much more!
Using Woo Essential, you can fully effectuate any design ideas you have for your WooCommerce website. Get creative!
This plugin is an essential part of my web design workflow! It has all the tools I need to help me boost my creativity and overall makes me more versatile! Now I can focus fully on the design-part of every web-creation. Great plugin! Great support-team! I love it!

This plugin is one of the "must" Divi extensions. It brings so many new options and possibilities in just a few simple clicks. Advanced CSS animations, transitions, and all "WOW" effects that make your site unique. Did I mention their support? Real-time chat with on-the-fly answers and solutions.
Thanks, guys, keep up the good work! Peace!

Fully satisfied with my investment! Gotta say I came across a brilliant set of modules within the Divi Essential Plugin! Very user-friendly and loving the adventure going through the 60+ modules! Just wow!
The hard work just shows! The level at which you all are bringing in the new products! Amazing! Truly grateful!

I went for the All-Access Pass and all I can say is Wow. The modules are absolutely amazing. I had a small problem downloading the Woo Commerce modules but the real-time chat support was amazing and had it resolved in minutes, I can't thank you guys enough, and looking forward to any new modules. Definitely worth buying, Highly recommended 5*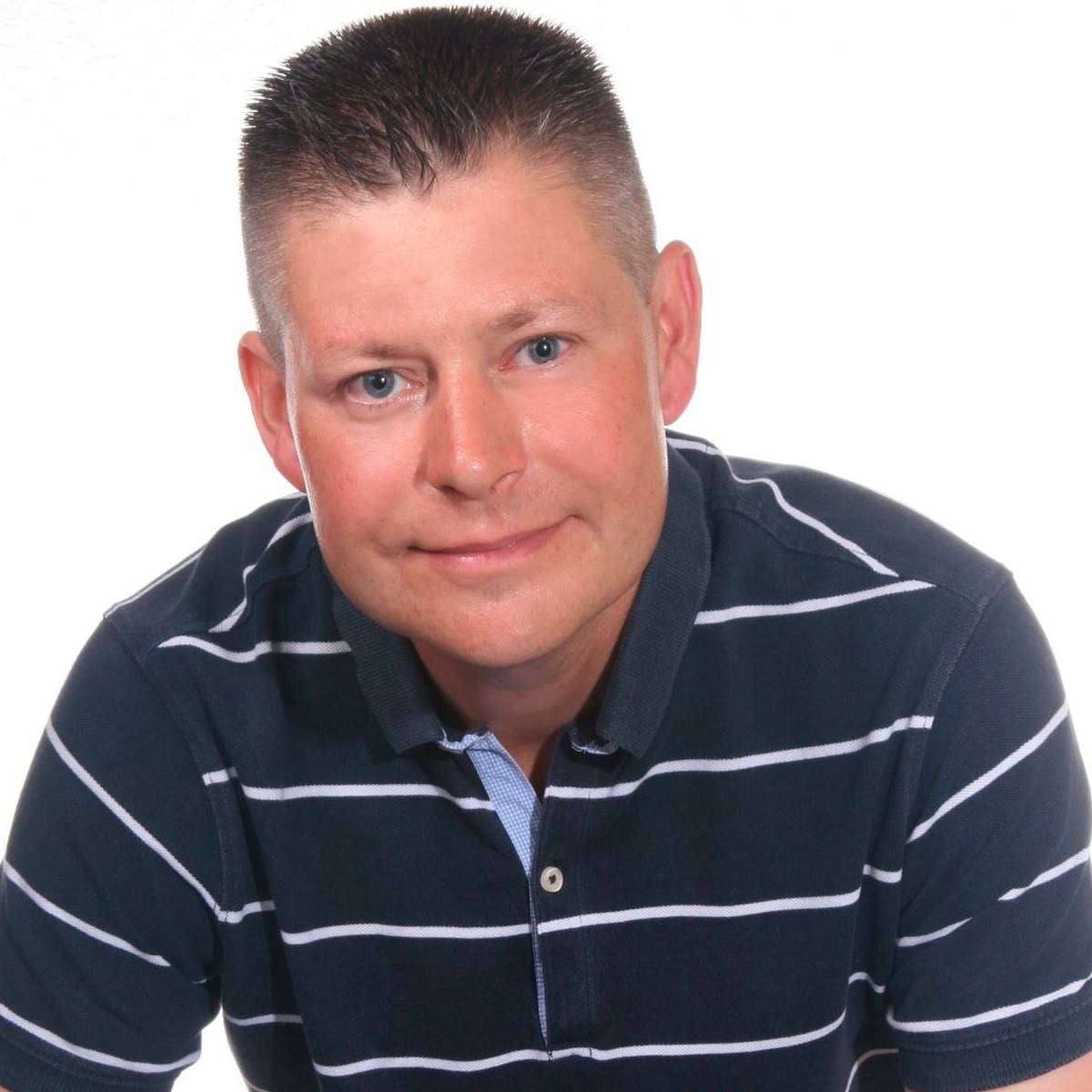 Incredible set of modules! The Divi Next Text and Divi Next blurb are awesome, the design possibilities are endless! Excellent customer service too!
A properly categorized and well-balanced pricing table for anyone using Divi
Single
Best choice for individuals
Access to a Single Website
Regular Updates on Products
Huge savings compared to individual Product Purchases
07+ Module Under Development
Unlimited
Best choice for yearly access
Unlimited Websites for a year
Regular Updates on Products
Priority Customer Support
Huge savings compared to individual Product Purchases
07+ Module Under Development
Lifetime
One invoice for a lifetime of benefits
Unlimited Websites for Lifetime
Regular Updates on Products
Priority Customer Support
Huge savings compared to individual Product Purchases
07+ Module Under Development
Frequently
Asked Question
What is the best definition of WooCommerce & Product?
WordPress has an eCommerce plugin called WooCommerce. WordPress users of small and large businesses can use it to build and design their online store. You can now set up your eCommerce/WooCommerce site under Divi Theme.
How do I install my Woo Essential Plugin?
Just like any other third-party plugin/extension of Divi, you have to download the zip file containing the plugin and upload it.
Here's an instruction:
After you download the plugin's zip file > go to your WordPress 'Dashboard'

On the left > go down to 'Plugins' 

'Add New' > 'Upload Plugin'

Finally, select the (.zip) file that has the modules

When the plugin is uploaded successfully, you will need to 'Save Changes' > then click on 'Activate'.

Enjoy your Woo Essential Plugin!
Here's a similar video showcasing the installation process:
https://youtu.be/zb6GCQWMP-0
How do I customize my WooCommerce website using Woo Essential Plugin's modules?
Once you have installed the plugin, all of the modules within Woo Essential Plugin will appear among the default modules in the Visual Builder.
Do I receive support for the Woo Essential Plugin?
For any support for the Woo Essential Plugin, or if you have purchased other DiviNext products, you can always reach out to us via our support email: support@divinext.com
What theme does Woo Essential Plugin use?
The Woo Essential Plugin is made for all Divi users under Divi Theme by Elegant Themes.
How do you provide support?
You can find answers to the Woo Essential Plugin questions in our documentation. Our aim is to provide self-help resources to empower you to manage your site.
Alternatively, you can start a live chat or submit a ticket directly related to the product you need help with via the Help Desk.
Woo Essential At a
Glance
Divi Next
Plugins, Layouts
and Extensions
Divi Next brings you the most refined extensions of Divi plugins, modules, and layouts which enriches your website building abilities. Streamline your Divi experience with Divi Next.
Priority Support
Our Support Team is ready to assist you getting started or if you run into any problems, you can contact support@divinext.com
Money Back Guarantee
You can reach out to us if we are not the right fit for you within 30 days and a 100% of your payment will be refunded to you. No questions asked. It's that simple!
Divi Next Live Chat
We have live chat support to help you meet your needs and solving any difficulties you might face using our plugins or modules
Divi Next: Mega
Save Offer!
Get access to Divi Next's most creative plugins consisting of 80+ modules, 750+ layouts, 36+ templates and so much more! You can have it all here. So, hurry up and grab the all access pass!